The team at Meridian Roofing are experts at commercial and residential roofing. We are well known across the midwest region for our excellent customer service, professional installation, and competitive prices.
With over 15 years of experience, we will find a solution to your every roofing need. Our experience and industry knowledge coupled with our passion for serving local businesses and families make us the ideal partner for your next residential or commercial roofing project.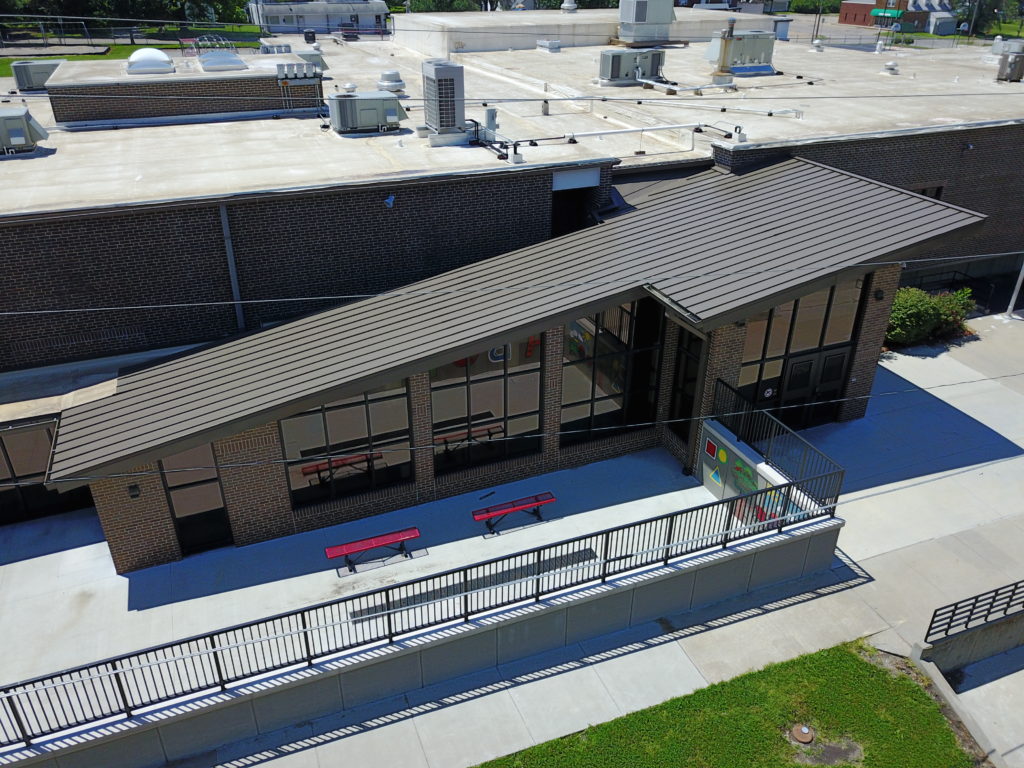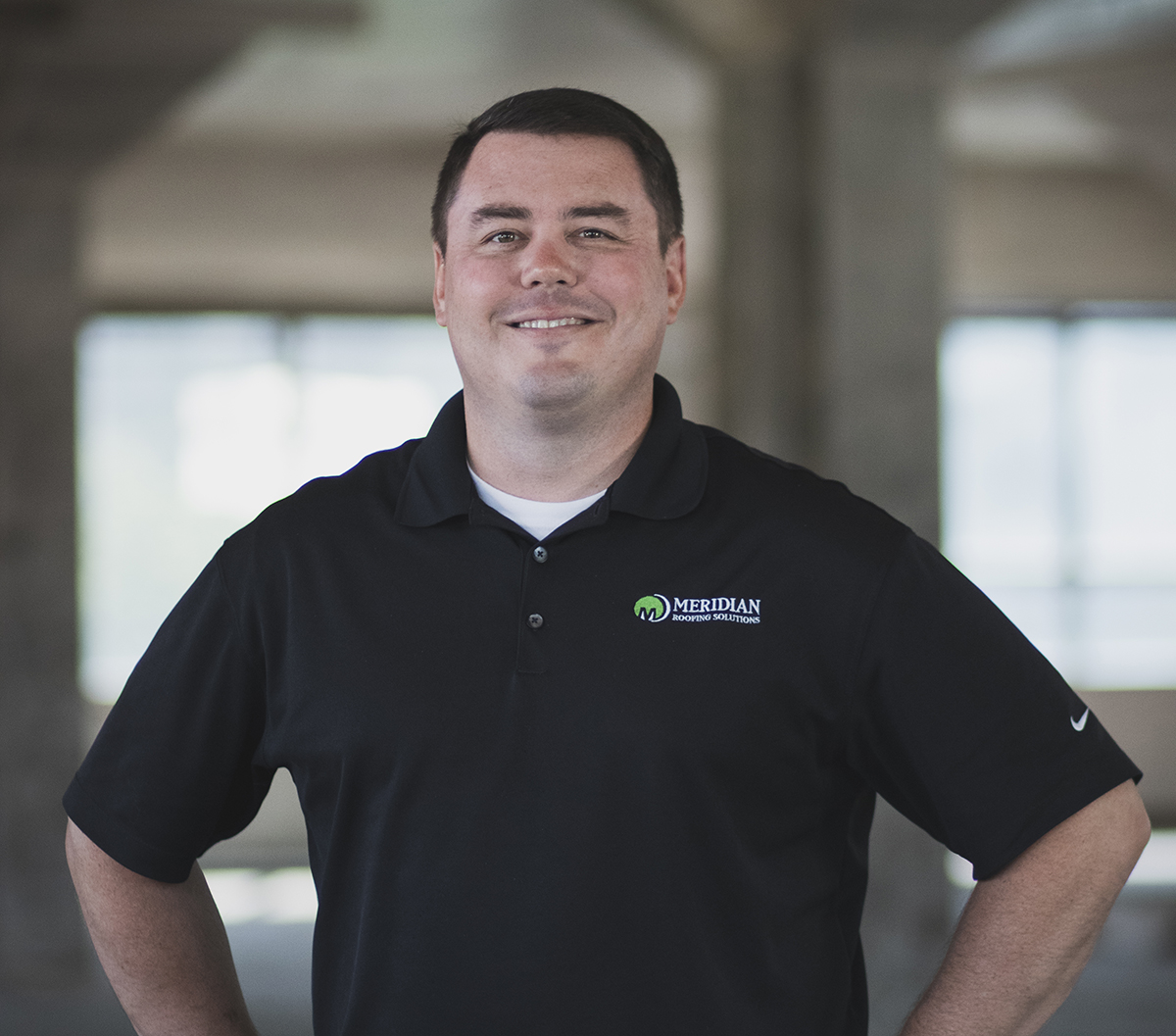 From day one, Keith knew architecture was his calling. Witnessing the achievements of his grandparents helped turn his childhood dream into reality when he founded Meridian Roofing Solutions in 2013. As co-owner of the business, Keith thrives from solving the daily challenges of running the business while keeping the company's long term goals in focus, and helping his outstanding team make Meridian the best it can be.
Outnumbered by females in his household though, Keith and his wife, Brae have two young daughters, Charlotte and Evalyn who danced into his heart from day one. To escape the sugar and spice from time to time, Keith hits the tracks to race cars and motorcycles - his favorite hobby since he was a kid. Diehard Kansas State fan, he bleeds purple and is a true Wildcat through and through. #FrankLloydWright #Biker #EMAW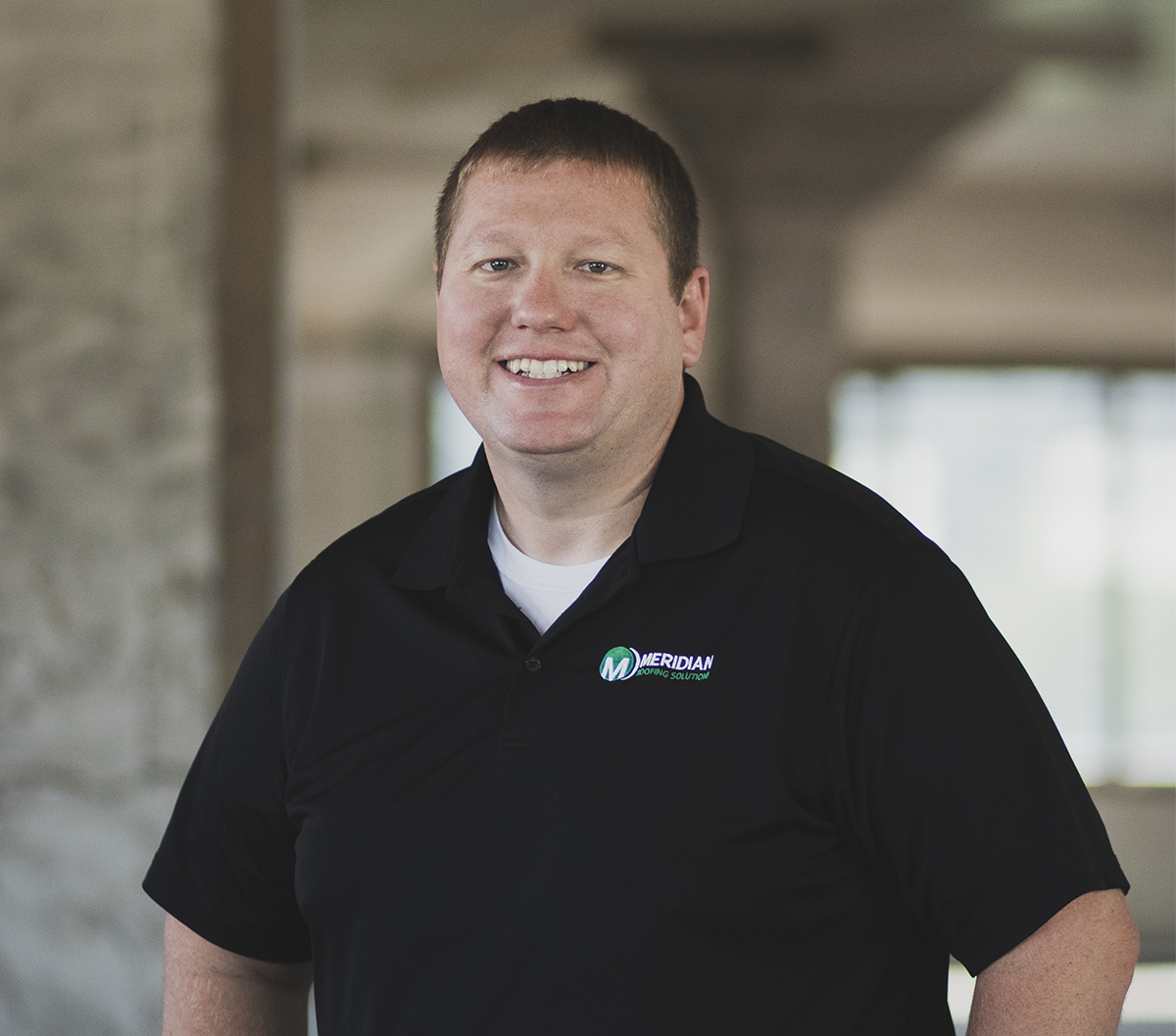 Determined and unwavering, Nathan helps lead the Meridian team with an ambitious and upbeat spirit. Having accomplished a life goal of completing a full IronMan Triathlon in Lake Placid, New York, no dream is too big for this high-reaching entrepreneur. Nathan is married to his high school sweetheart, Annie, who is a special education teacher in the Tecumseh school district. Together, they are the proud parents of a beautiful, and oftentimes, melodramatic first grader, who keeps them on their toes!
As co-owner of Meridian, Nathan maintains the vision of the company through all business avenues, but still, nothing charges his battery more than meeting his customers and helping solve their most difficult roofing challenges. Having watched his grandfather hit rock bottom at the age of 50, and then reinvent himself to be a successful businessman, Nathan comes by his passion for success naturally, and his motto to "have fun" has allowed him to enjoy every step in the journey! #Founder #Motivated #HaveFun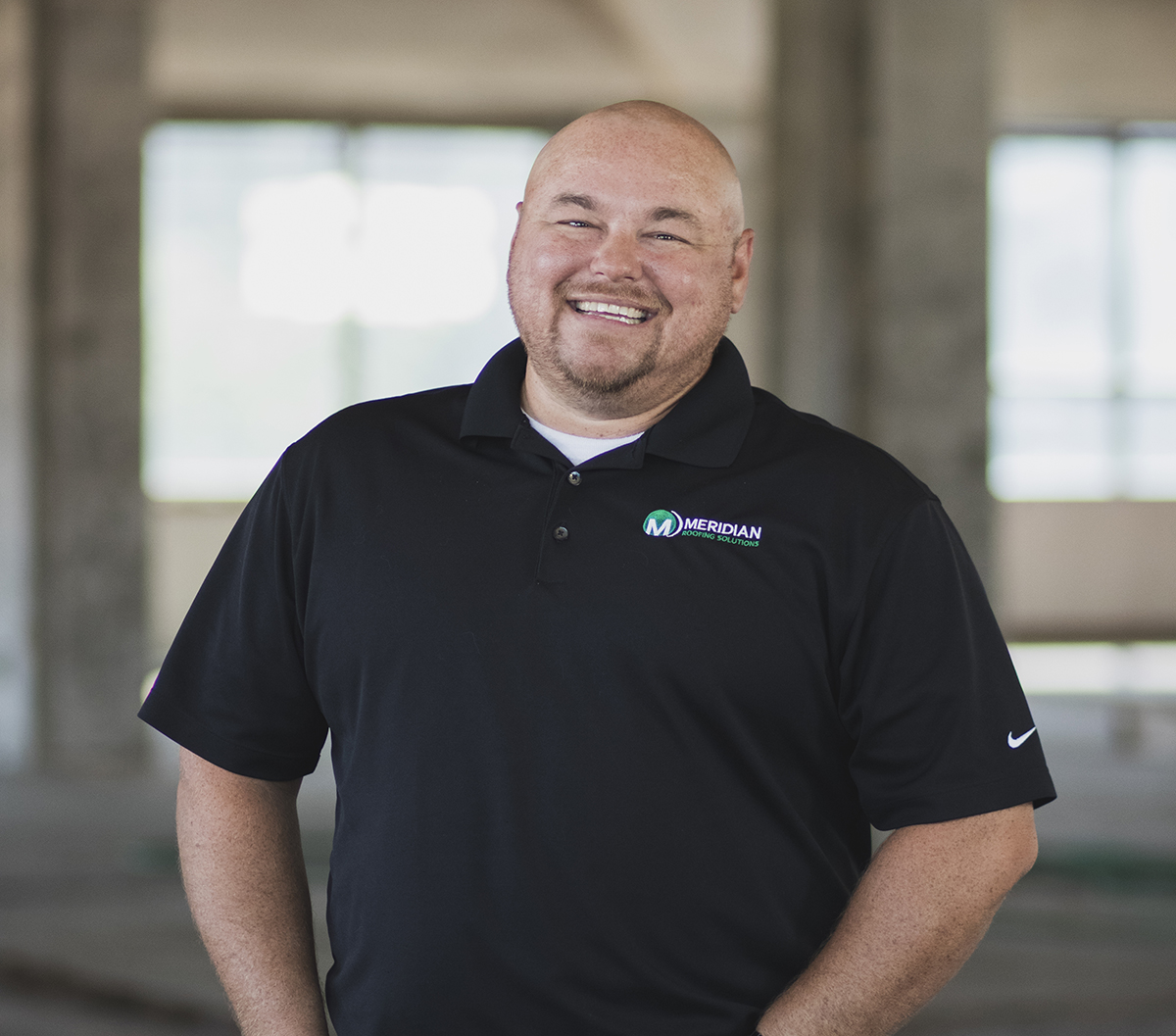 He's the Shawn of all trades...Roofer. Building Mechanic. Carpenter. Plumber. Cowboy. Bowler. That's right, bowler (he once rolled a game of 280). When he isn't knocking down pins, he serves as a Territory Manager for Meridian clients and helps them find innovative solutions to their roofing projects.
At home, his active family roots him on through all of his endeavors. Kimberly, his wife, Lauren and Landon, his children, two dogs and two cats enjoy spending time together, spending time outside or going to the movies (well, minus the dogs and cats). Oh, and cowboy? Shawn once broke his ankle by being bucked off a bareback bronc. #Polymath #Bowler #ThrillSeeker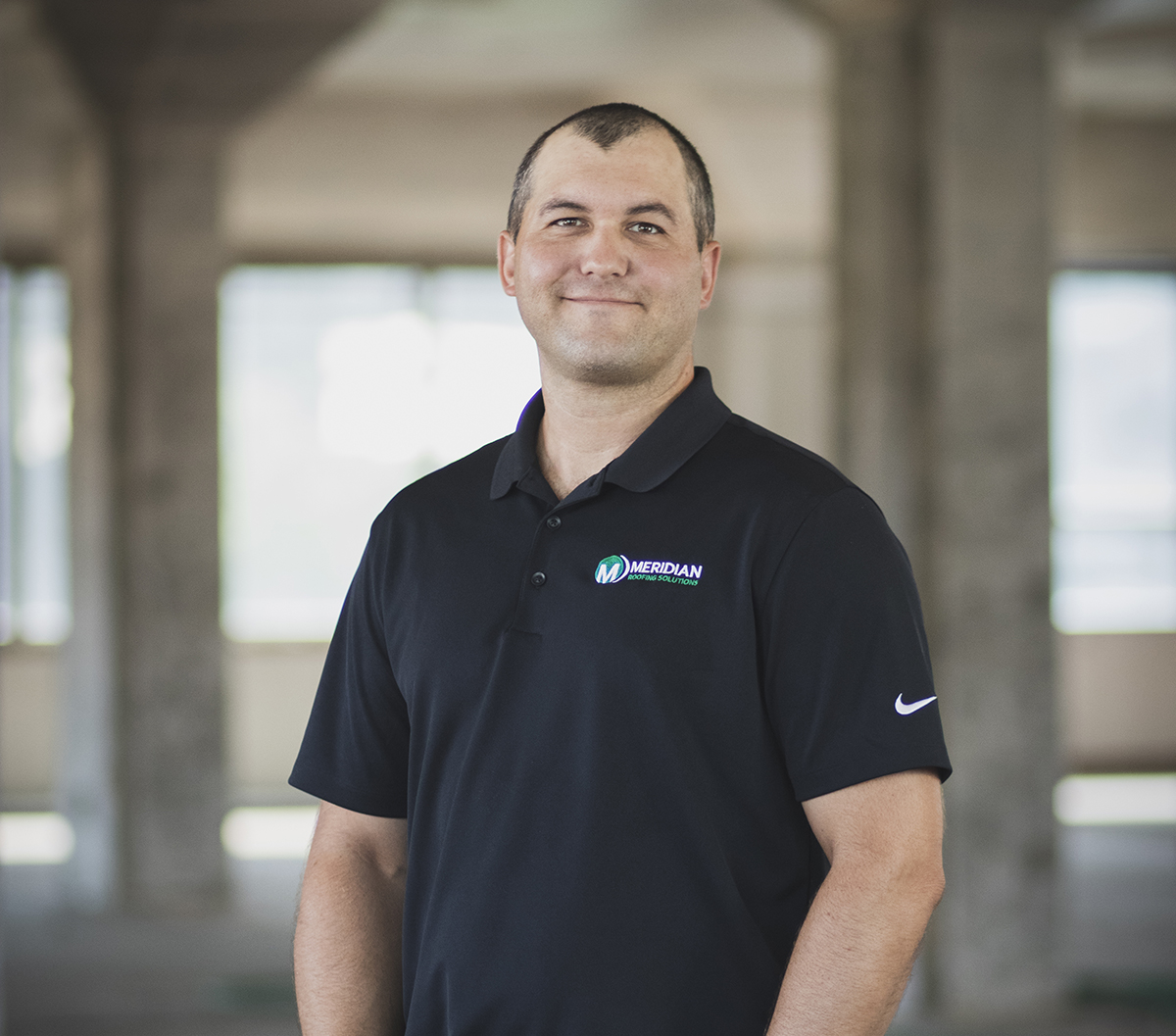 Owen Metheny
---
Project Manager
He's our chief problem solver, and none are too big for this optimistic project manager! From calculating material usage, to coordinating job schedules, to tracking inventory, Owen sees his fair share of all business aspects. "Whatever you do, do it to the best of your ability" is his outlook, making him a #10 in our book!
By serving on the Army Corps of Engineers, Owen uses his engineering expertise to improve every aspect of the roofing business. At home, he and his wife, Laura, enjoy getting outside, gardening, and hope to travel the world as they grow their family. #HardWorker #Juggler #CountryBoyAtHeart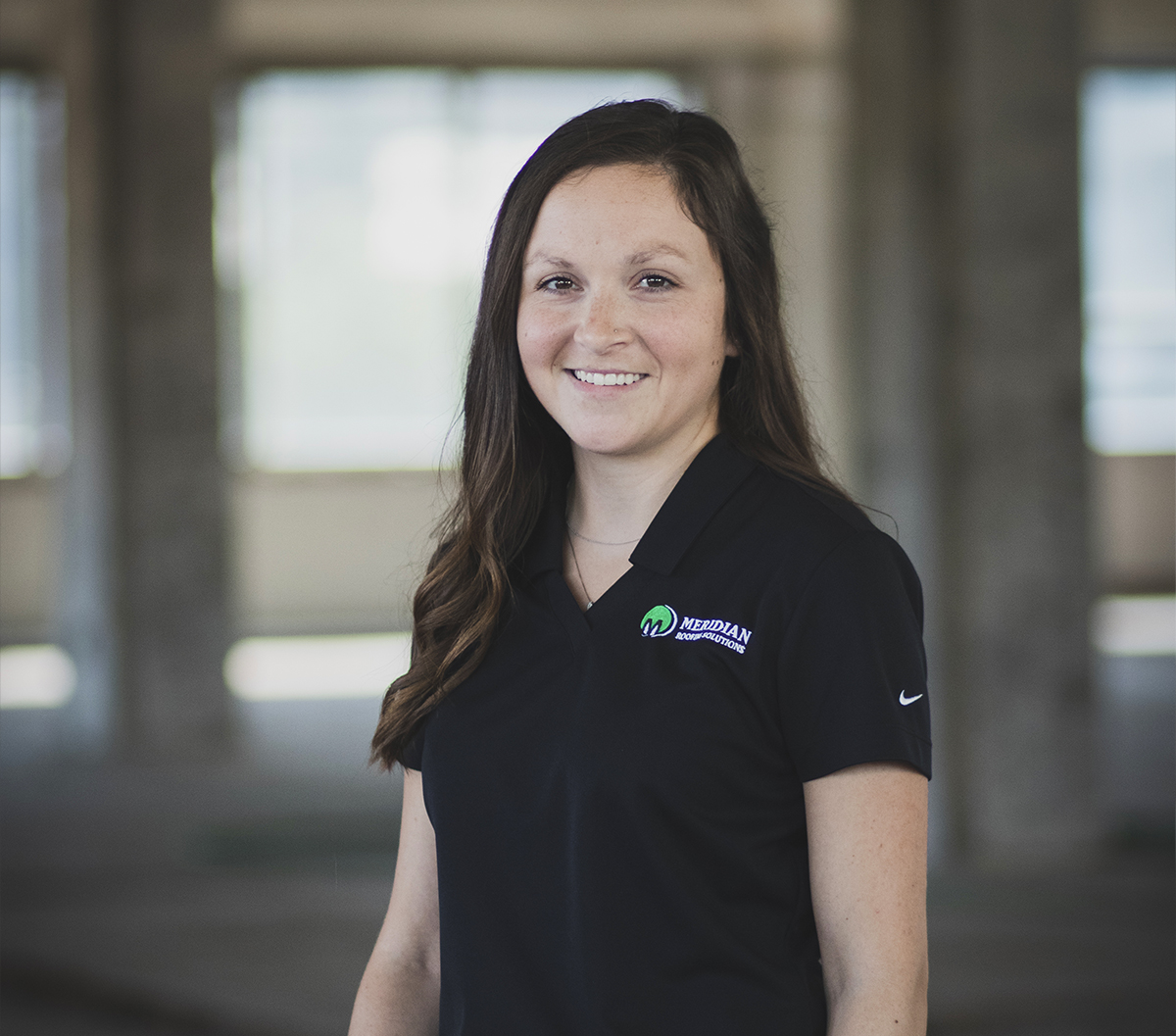 Marisa Gasperich
---
Office Manager
Marisa is the trusty right-hand woman, serving as Meridian's office manager. From accounts receivable and payable, to payroll, to assisting team members each day, she loves the constant activity around the Meridian office.
A country girl at heart, Marisa loves spending time on the family farm and rocking out at country concerts with her husband, Brandon. Soon this couple will be joined by their first-born, who they hope to raise like Marisa's hard working "Pa," the hero in her life. Growing up just 50 minutes from Lawrence, Kansas, Marisa loves Jayhawk basketball and roots for KU through every March Madness. A little further from home, though - she dreams of traveling to Bora Bora for the ultimate vacation experience. #JillOfAllTrades #CountryLife #RockChalk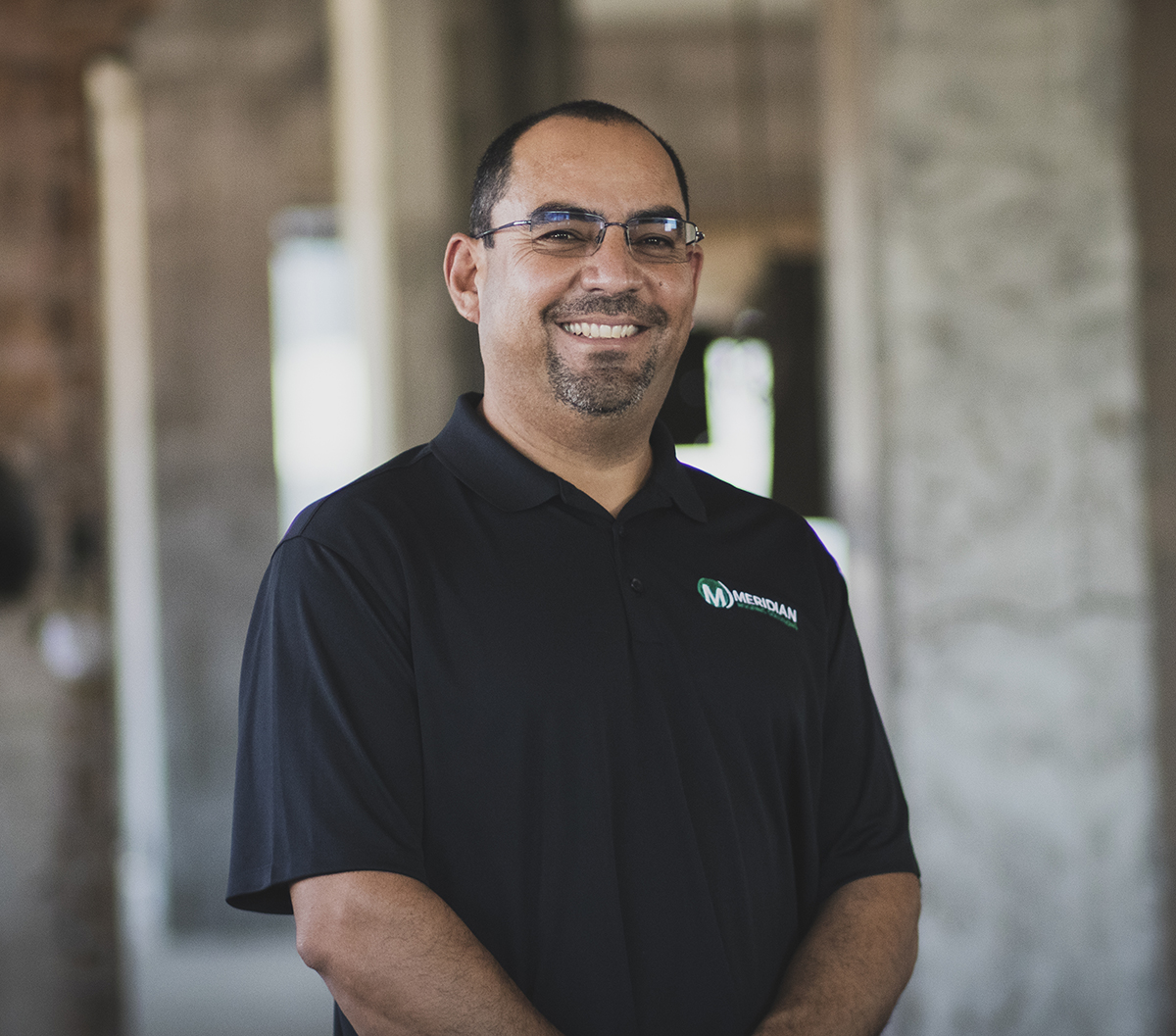 Miguel Ramirez
---
Superintendent
Growing up in small town, Baldwin City, Taylor's favorite memories included all things sports and outdoors, which has evolved into a love for getting outside and staying active. Loyal Chiefs, Jayhawks, and Royals fan, he bleeds red AND blue, giving him a sport to cheer on in every season. As Meridian's Territory Manager, Taylor finds joy in meeting new folks and helping find creative roofing solutions in every job. Drawing from his experience as a seasoned Cabinetmaker, his attention to detail serves him well in the field.
At home, his furry friend gets him out for fetch and walks, and his acoustic guitar beckons him to stay in tune with his musical side. Fishing, woodworking, whale darts (Google it), pickleball, and poker...this guy has his hand in many hobbies and truly enjoys life to its fullest! #TaylorMade #Hobbyist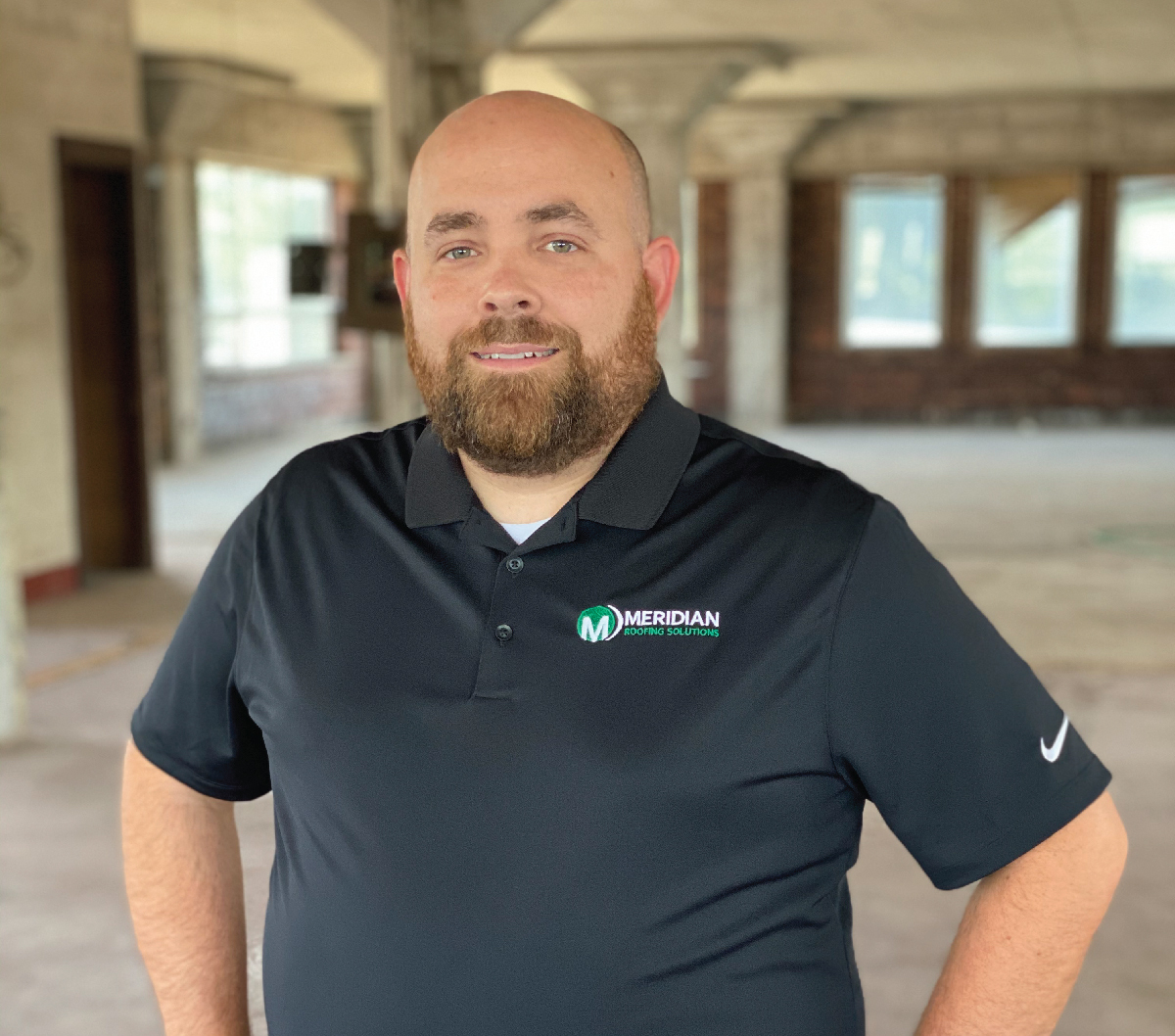 Adam Schultz
---
Territory Manager
Adam Schultz is one of our Territory Managers. Adam has over 6 years' experience in the roofing industry. Working with contractors and owners to help them discover what fits best for them. He also has over 8 years of Managing a Territory. He understands the importance of always being available to his customers and he works to exceed their expectations. He has over 20+ years of customer service experience which he can attribute to his years in the casino industry. During those 12 years he was humbled to be awarded several corporate awards, Employee of the Year, and a Leadership award, to name a few.
Adam is also a family man; he is the proud father to 4 girls (pray for me), and a husband to one lucky lady (I consider her lucky to be married to me). He also has one dog that most would say is the most important in his life, or at least that is what his wife would say. He has a gift of gab, and a degree in sarcasm. Things are always interesting when Adam is around.
Adam is a diehard Chiefs and KU fan. He enjoys woodworking when he has time, as well as playing golf.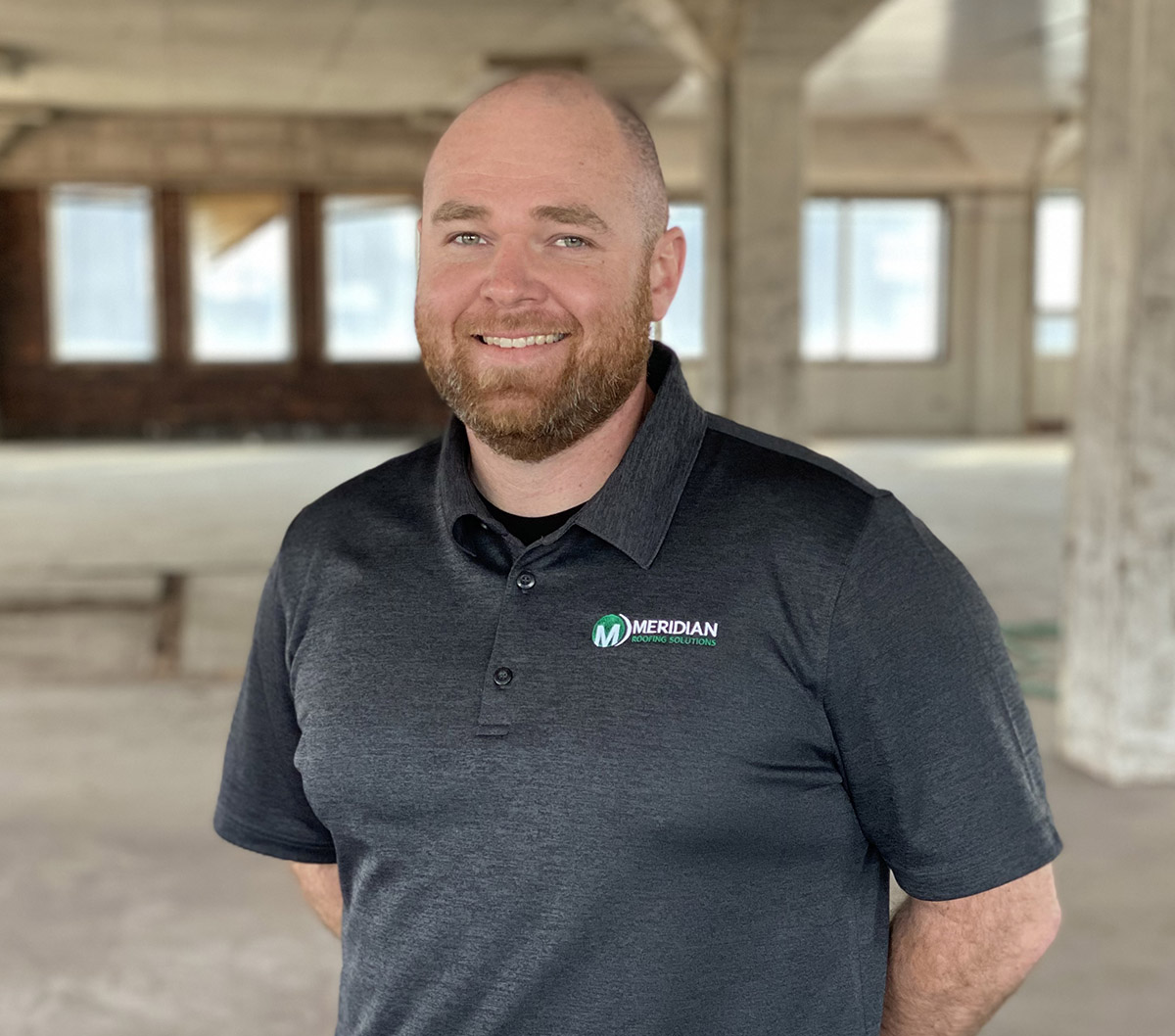 Ryan Holm
---
Territory Manager
Day-to-day '"dot-connector" is how Ryan, our Territory Manager, navigates through his workday. When he isn't out in the community connecting and building relationships with great clients, he can be found working on his archery skills or practicing his drums. He'll be the first to tell you that working with clients to help them find a product that meets their specific need is one of the best "perks" of his job!
Ryan is a Topeka Native and since childhood, he has had a love for motocross racing. He enjoys it so much that he and his wife Cassandra named their two pugs after professional dirt bike racers. When Ryan isn't working or enjoying motocross you can find him doing all the "girl dad" things with their two beautiful daughters, Audrey and Brooklyn. Ryan enjoys being outdoors and living his life to the fullest, which is why his life motto is perfect "Pain is temporary, pride lasts forever". #motocrossfan #familyman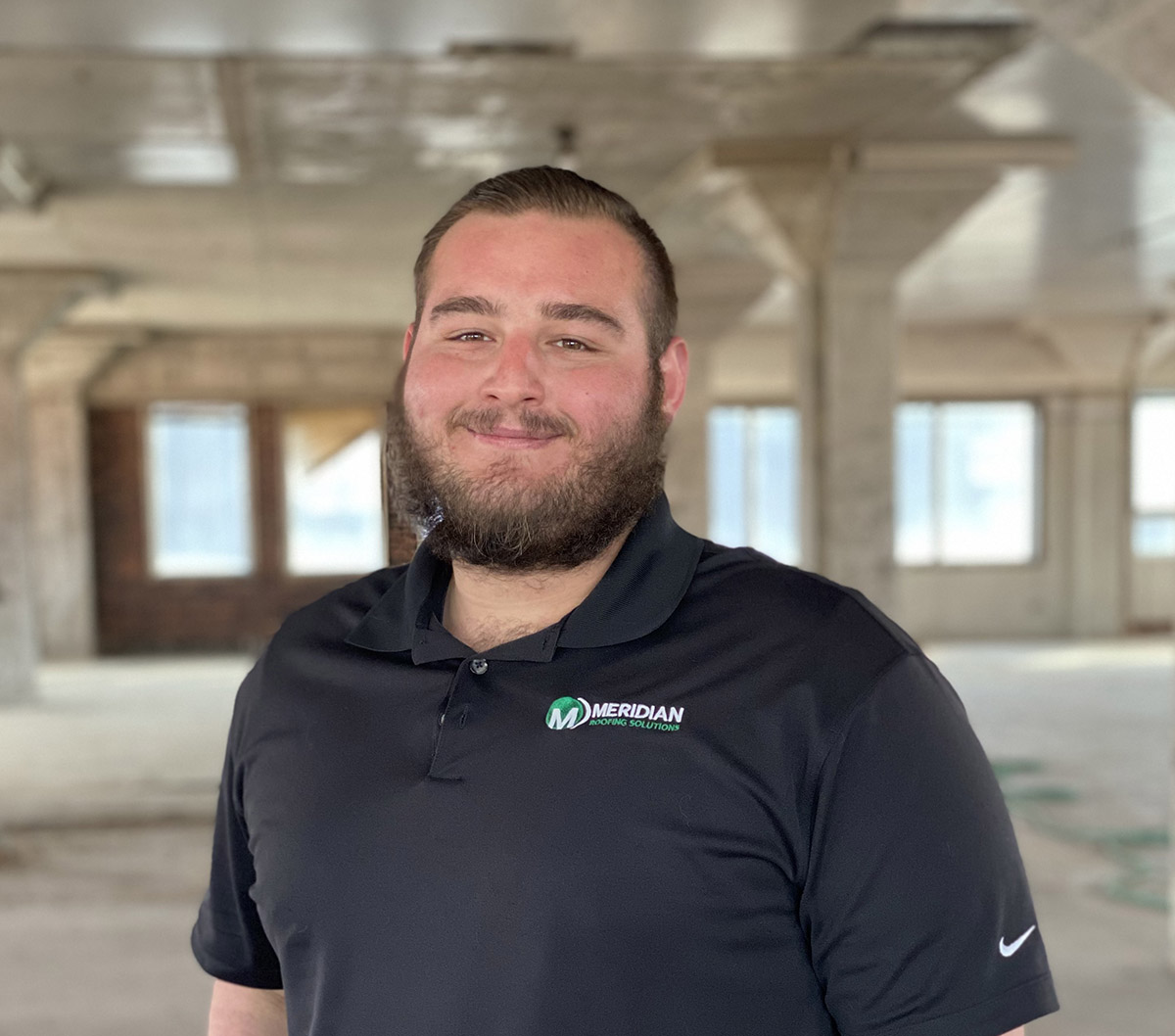 Zach DeShazer
---
Warehouse Manager
Zach DeShazer is the Warehouse Manager and Assistant Production Manager. He has been with us since 2021. Zach keeps our warehouse in tip-top shape by managing all inventory and assisting with the management of the roofing crews, he also breaks metal for any of the metal roofing jobs. You'll never see Zach just loungin' around - he says that he loves that every day is something different and that there is never a repetitive motion.
Zach grew up in Scranton KS and he found a love of hunting and fishing while he was there. In his free time, Zach enjoys spending time with his girlfriend, playing co-rec volleyball, hunting (ask him bout his trophies!), fishing, and going to the sand dunes on his UTV. A childhood dream of Zach's is that he wanted to be a Game Warden. Zach's love of all things outdoors was developed by sharing those activities with his hero - his dad. On the top of his bucket list is a grand trip to Ireland and Scotland to see the countryside. 
Zach lives his life by the motto "enjoy the small things in life and learn something new every day."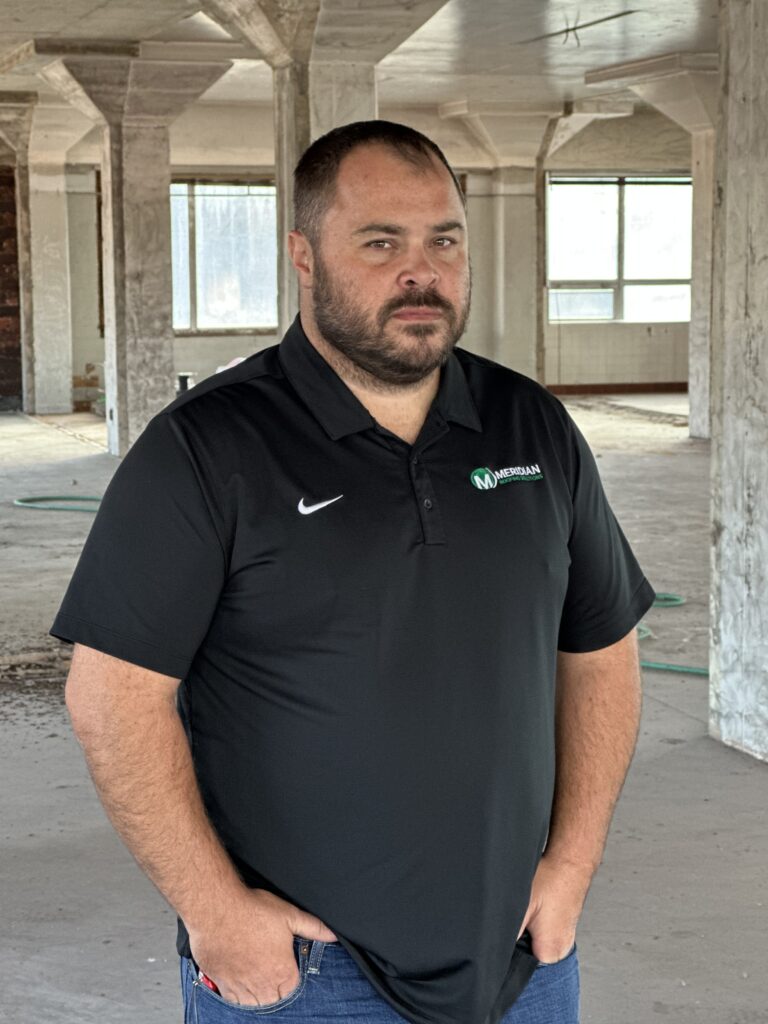 Austin Higgins
---
Project Manager
Austin Higgins is one of our project managers. Austin is usually someone who handles the customer experience after the sale occurs. He orders materials, maintains schedules, and provides our customers with top-notch customer service. Austin says that he loves the teamwork atmosphere at Meridian and working with a variety of people with the same "customer first" attitude.
Austin grew up in Burlington, KS. He was involved in man sports and made so many wonderful memories. It was once a goal of his to become a professional basketball player - he practiced every day for hours on end. Now, Austin enjoys spending time with his wife, Carrie, and their 3 children outside of work. A fun fact about Austin is that he used to build and drive demolition derby cars. In his free time, Austin enjoys carpentry and building projects for himself and his friends and you might even see him perusing a local car show. At the top of his bucket list is a trip to Europe to visit the castles, or to take an Alaskan cruise. 
Austin lives by the motto "Actions express priorities."
Call us today
Topeka: 785-215-6181 or Omaha: 402-620-8812
or email info@meridianroof.com