The team at Meridian Roofing are experts at residential and commercial roofing. We are well known across Kansas and Nebraska for our excellent customer service, professional installation, and competitive prices.
With over 15 years of experience, we will find a solution to your every roofing need. Our experience and industry knowledge coupled with our passion for serving local businesses and families make us the ideal partner for your next residential or commercial roofing project.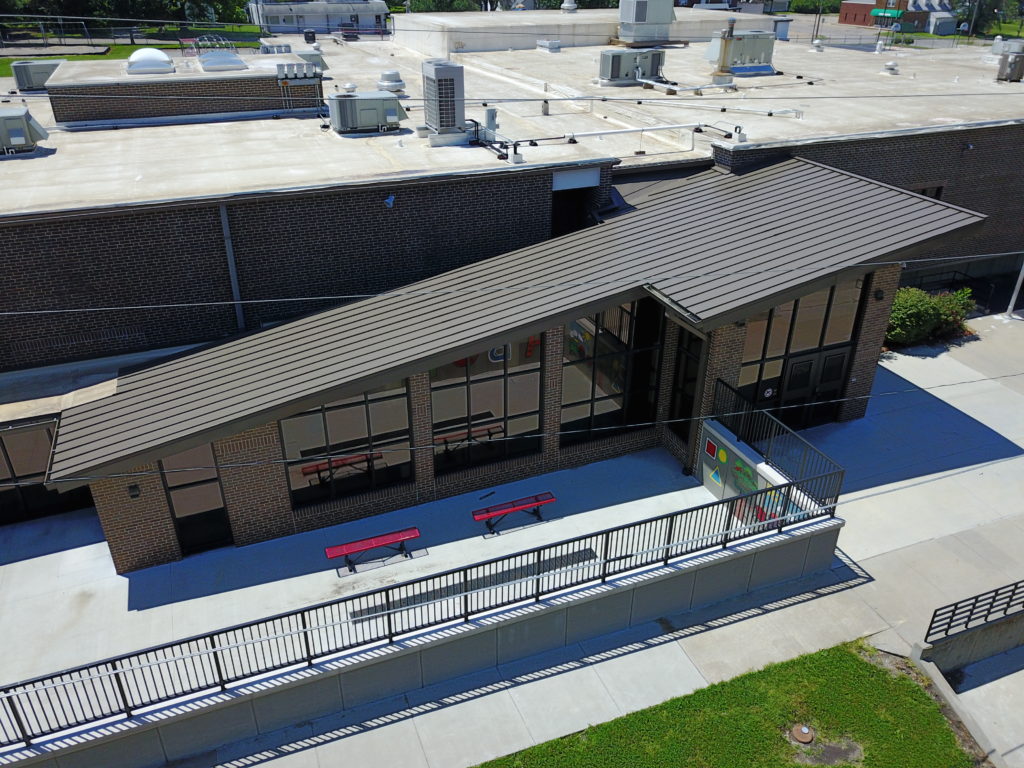 From day one, Keith knew architecture was his calling. Witnessing the achievements of his grandparents helped turn his childhood dream into reality when he founded Meridian Roofing Solutions in 2013. As co-owner of the business, Keith thrives from solving the daily challenges of running the business while keeping the company's long term goals in focus, and helping his outstanding team make Meridian the best it can be.
Outnumbered by females in his household though, Keith and his wife, Brae have two young daughters, Charlotte and Evalyn who danced into his heart from day one. To escape the sugar and spice from time to time, Keith hits the tracks to race cars and motorcycles - his favorite hobby since he was a kid. Diehard Kansas State fan, he bleeds purple and is a true Wildcat through and through. #FrankLloydWright #Biker #EMAW
Determined and unwavering, Nathan helps lead the Meridian team with an ambitious and upbeat spirit. Having accomplished a life goal of completing a full IronMan Triathlon in Lake Placid, New York, no dream is too big for this high-reaching entrepreneur. Nathan is married to his high school sweetheart, Annie, who is a special education teacher in the Tecumseh school district. Together, they are the proud parents of a beautiful, and oftentimes, melodramatic first grader, who keeps them on their toes!
As co-owner of Meridian, Nathan maintains the vision of the company through all business avenues, but still, nothing charges his battery more than meeting his customers and helping solve their most difficult roofing challenges. Having watched his grandfather hit rock bottom at the age of 50, and then reinvent himself to be a successful businessman, Nathan comes by his passion for success naturally, and his motto to "have fun" has allowed him to enjoy every step in the journey! #Founder #Motivated #HaveFun
He's the Shawn of all trades...Roofer. Building Mechanic. Carpenter. Plumber. Cowboy. Bowler. That's right, bowler (he once rolled a game of 280). When he isn't knocking down pins, he serves as a Territory Manager for Meridian clients and helps them find innovative solutions to their roofing projects.
At home, his active family roots him on through all of his endeavors. Kimberly, his wife, Lauren and Landon, his children, two dogs and two cats enjoy spending time together, spending time outside or going to the movies (well, minus the dogs and cats). Oh, and cowboy? Shawn once broke his ankle by being bucked off a bareback bronc. #Polymath #Bowler #ThrillSeeker
He's our chief problem solver, and none are too big for this optimistic project manager! From calculating material usage, to coordinating job schedules, to tracking inventory, Owen sees his fair share of all business aspects. "Whatever you do, do it to the best of your ability" is his outlook, making him a #10 in our book!
By serving on the Army Corps of Engineers, Owen uses his engineering expertise to improve every aspect of the roofing business. At home, he and his wife, Laura, enjoy getting outside, gardening, and hope to travel the world as they grow their family. #HardWorker #Juggler #CountryBoyAtHeart
With a degree in sports medicine and five Ironman triathlons under his belt, Mike has become Meridian's in-house, exercise guru. As the Nebraska Branch Manager, he oversees all Nebraska operations and manages the branch's commercial projects.
At home, he spends his time with his wife, Darian, his two step-sons, Carson and Camron, and the two family dogs, Jake and Pepper. From hunting to fishing to traveling, this family stays active all year long. Don't be fooled by his brawn alone, this ironman has plenty of brains, having graduated Cum Laude and inducted into the Sagamore Society in 1999.
His motto, "be interested, not interesting" has pushed this ambitious mover and shaker to achieve an abundant life. #tenacious #FamilyMan #OpenAir
Marisa is the trusty right-hand woman, serving as Meridian's office manager. From accounts receivable and payable, to payroll, to assisting team members each day, she loves the constant activity around the Meridian office.
A country girl at heart, Marisa loves spending time on the family farm and rocking out at country concerts with her husband, Brandon. Soon this couple will be joined by their first-born, who they hope to raise like Marisa's hard working "Pa," the hero in her life. Growing up just 50 minutes from Lawrence, Kansas, Marisa loves Jayhawk basketball and roots for KU through every March Madness. A little further from home, though - she dreams of traveling to Bora Bora for the ultimate vacation experience. #JillOfAllTrades #CountryLife #RockChalk
Call us today
Topeka: 785-215-6181 or Omaha: 402-620-8812
or email info@meridianroof.com